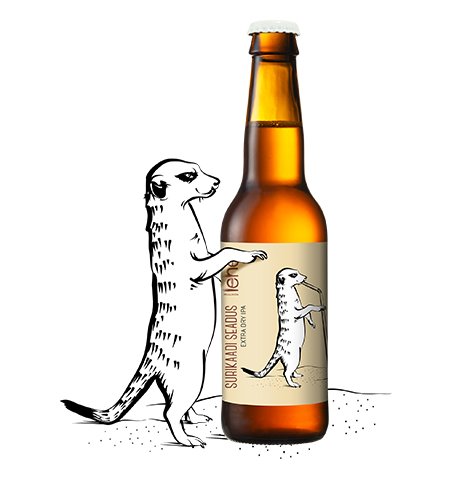 Meerkat Mob Rules
Extra Dry IPA
"Oh, you think dryness is your ally. But you merely adopted the dry; I was born in it, molded by it."
Meerkats know dry. They are born and live their entire lives in the desert. So we listened to them. Bone dry, sure, but maybe we give the malt a fleeting chance to show it's sweet side. Fruity? Bring it on! Amarillo and Citra hops will provide you with plenty. Infinitely quaffable? Yes, please.
Experience: Effervescent hop champagne is filling the glass with bright white and high fluffy head. Light golden beer is crystal clear.
The aroma reminds classical west-coast IPA's, mango, citrus, tropical fruits, and pine resin. Malts add a fleeting thought of honey cracker.
The sip is fragile and fleeting. Everything that was promised in the aroma is well present. The hint of malty sweetness is nicely balanced with mild hop bitterness. But it's light, very light. In a way, that's why dry IPA exists. Your quaffable and refreshing summer beer.
Just facts
ABV: 6.0% OG: N/A FG: N/A IBU: N/A EBC: N/A