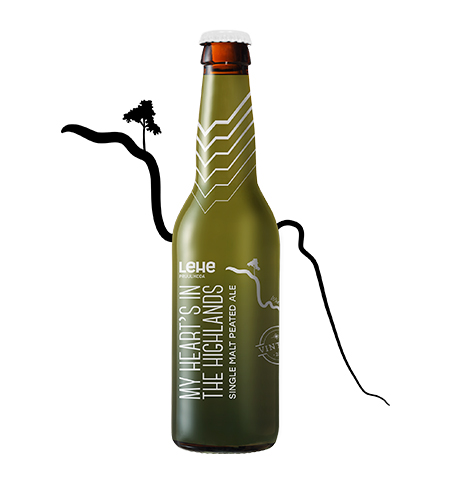 My Heart's in the Highlands
Single malt peated ale aged in sherry barrels
"Wherever I wander, wherever I rove,
The hills of the Highlands for ever I love."
We were inspired by Scottish Highlands and peated Scotch whisky. Brewed with peated malt and aged in the sherry barrel it's more or less fermented whisky - if there is such thing.
It's best enjoyed like whisky too - in a small glass and savoring every sip.
Experience: The thin layer of foam disappears rapidly, leaving in the glass bright orange beer. Dried apples, dates and hint of caramel sweetness preparing you for the main act - peat smoked malt and sherry barrels.
While in the aroma, exceptionally high alcohol was somewhat hidden, there is no way around it in the flavor. The sip starts with slightly fruity and sweet but turns quickly into warming wave of alcohol. There isn't too much form the beer vocabulary to describe the experience. Is there peat liquor? Probably smokey whiskey is much better starting point o understand the beast.
In the aftertaste, there is a long tintinnabuli of peat smoke and malt sweetness.
Just facts
ABV: 21.9% OG: N/A FG: N/A IBU: N/A EBC: N/A