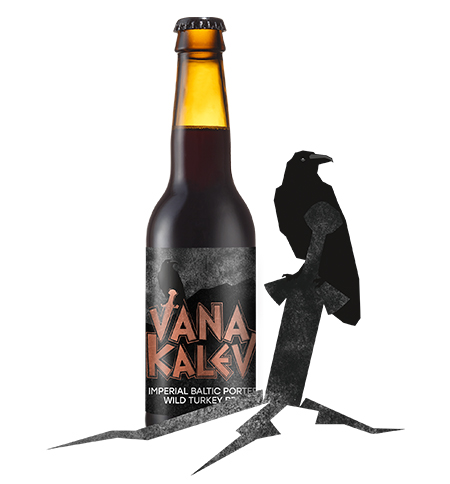 Vana Kalev Wild Turkey BBA
Imperial Baltic Porter
Dark brown coloured beer with small brown head.
First nose is rich, lots of cocoa, bitter chocolatey, cream liqueur. Mild vanilla and tobacco notes in background. First taste is bitter chocolatey, rich, oaky. Sweeter side bourbon, alcoholy, vanilla and caramelly notes in middle taste. Roasty and bitter side dry oaky notes dominating more in aftertaste.
Vana Kalev is rich and powerful strong porter for those who would like to treat themselves with something tasty in cold winter evenings. It suits perfectly as digestive and aswell with nice pork steak.
Recommended serving temp 8-10C degrees.
Just facts
ABV: 13.5% OG: 28,7 FG: 6p IBU: 75 EBC: 100