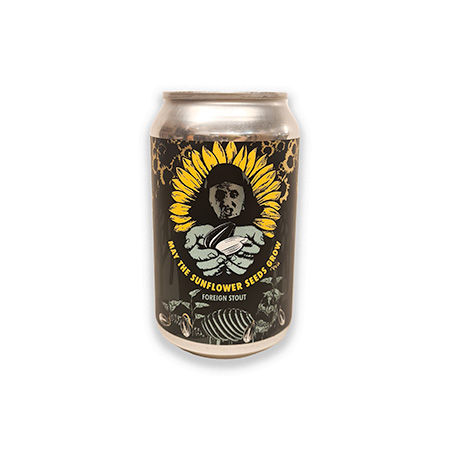 May the sunflower seeds grow
Foreign Stout
"Take these seeds and put them in your pockets so at least sunflowers will grow when you all lie down here," is the sentence said by the Ukrainian old lady to the soldier of the aggressor country, which has become one of the symbols of resistance. This Ukraine-inspired stout is brewed with roasted sunflower seeds. The sunflower is the national flower of Ukraine.
The beer is black in color, with a lighter brown thick foam that lasts a long time. The first aroma is toasty and coffeey. In the background, slightly sweeter nutty and chocolate notes. Sunflower seeds are immediately noticeable at first taste. The nuttiness, oiliness and saltiness of the seeds balance the roasted flavors. The middle taste is rather creamy, nutty, chocolatey. In the aftertaste, the salt comes out slightly again.
This porter is such a universal companion to meat dishes, but it is also perfect for simply enjoying on a dark autumn evening. It is recommended to serve at least 8C from a stemmed beer glass, why not also from a wine glass.
Just facts
ABV: 7,0% OG: 17,5 FG: 4,5 IBU: 30 EBC: 64