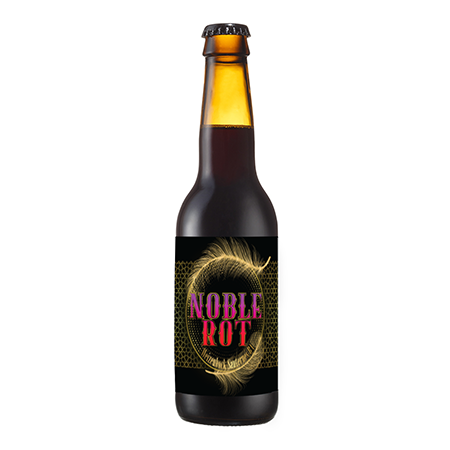 The aroma is very powerful and diverse. First, the fresh, sweet and sour fruity, raisiny, winey notes characteristic of Sauternes come to the fore. If you let the beer stand in the glass for a while, oak barrels, nutty, tobacco aromas are added.
The taste is quite dry. Raisins, nuts, light tannic dominate first. Creamy, wheaty, banana flavors are added in the mid-palate. The finish is long and nutty, with alcoholic warmth coming into play. At warmer temperatures, more sweetness is added to the taste, but alcohol also tends to emerge.
It is an extremely multi-layered and exciting drink, which in its character could resemble a bit of dry sherry. You would expect a lot of sweetness from a Sauternes barrels, but it is more likely to be transmitted only in the aroma.
You could try Noble Roti with various cold snacks, for example olives, capers, cured meat.
Serving recommendation - start at 6-8C degrees and enjoy one glass for a long time to gradually discover the different layers and flavors of this noble drink as it warms up.
Just facts
ABV: 13% OG: 26p FG: 3,8p IBU: 17 EBC: 9