TCBW 2019
2019-04-28 / Written by: Tarmo / 5 min. read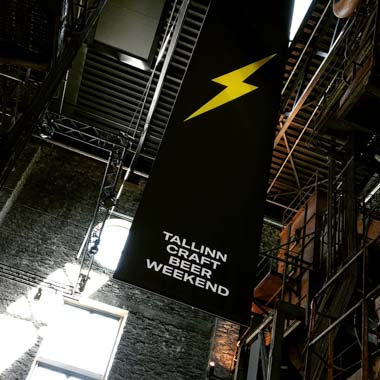 It's this time of the year again. Tallinn Craft Beer Weekend is just around the corner. Beer aficionados will take over Tallinn streets to be part of beer party extraordinaire. It means that it's time to take out our best and boldest beers and set them ready for the party. And here they are.
Doomino Efekt / Domino Effect - 7.5%
Sour red ale fermented with house blend w/ solera process
Solera process, the Ouroboros of the beer making. Neverending fermentation where once a year we take away half of matured beer, add fresh beer and let nature take its course.
One day, almost 2 years ago, we discovered that one forgotten pilot brew has developed beautiful pellicle. We threw in a bunch of Brettanomyces strains, and we got house mix that keeps producing lovely red sours. We used it to start our own endless fermentation process.
After almost two years of preparations we are happy with the result and more than happy to share it with you at the TCBW'19
Vanaisa Kirsitubakas / Grandfather's Cherry Tobacco - 6.5%
Cherry porter w/ Timiz peppers
The bittersweet aroma of tobacco has always attracted me. Maybe it's childhood memories from grandfather's house. Maybe it's the dark attraction of prohibited fruit. Since I started brewing, I have always wanted to brew beer with a hint of tobacco. Without using actual tobacco of course.
While you can squeeze some tobacco-like notes out of yeast, these are quite feeble and does not do justice for the rich and multilayered aroma of the real thing. So I gave up trying, as it looked hopeless. Until I met Timiz peppers. This endemic pepper grows in the wild in the forests of the Ethiopian highlands, and it has the intense aroma of tobacco.
That was all I needed. I have seen the sign. Playing around with cherries and porter recipe and it's here. Beer that gracefully carries the experience of a pipeful of cherry tobacco.
1839 - 9.5%
East India pale ale
This is not your fathers IPA. This is your grand-grand-grand-fathers IPA. Brewed like it was done at the beginning of the 19th century - with burtonised water and bucketfuls of East Kent Golding hops.
We didn't ship the beer all around Africa, but we pushed the oak barrels out of brewery doors to the blazing heatwave of 2018 and cold autumn nights of Estonia. We added a dash of Brettanomyces Claussenii, to stay true to the good old times.
The result is nothing like the fruity-citrusy hop soup you are enjoying today. But times are different. At the beginning of the 19th century, there were not much of the smartphones, Internet or social drinking apps around. Don't even get me started on electricity.
My Heart's in the Highlands - 21%
Single malt peated ale aged in sherry barrels
We at Lehe love to push yeast to the limits. Fermenting beers past 20% ABV requires you to step outside of all the norms and rules. This time we were inspired by Scottish Highlands and peated Scotch whisky. Brewed with peated malt and aged in the sherry barrel it's more or less fermented whisky - if there is such thing.
It's best enjoyed like whisky too - in a small glass and savoring every sip.
Sigtuna Vastulöök / Sigtuna Strikes Back - 7.0%
Ancient Estonian stone beer with healing herbs (brett aged)
Last year we brewed an ancient stone beer together with Pihtla, roughly in a way how beer was brewed in Estonia 1000 years ago. As it was a limited experiment, we got only 4 kegs of it and carefully sold them to places where they could be served to beer aficionados. Except, once TCBW was over and fog of war was gone, we discovered one extra keg.
What you should do with one keg of such beer? You drop some brett in it and forget it for another year. What came out is surprising at best. Have I not known that it's the same beer I could not have guessed it. Overly woody juniper is gone, some sourness and fruity esters have totally changed the character of this beer. There is still a hint of meadowsweet. In the aftertaste, you are welcomed by your old friend wormwood. Taste of wormwood will probably stay in the beer forever, or until our Sun explodes, whichever comes first.
And this time, there is really just one keg of it. Served only in TCBW.
The World Is Your Oyster - 8.5%
Imperial sour ale
Seafood has always been challenging partner for a beer. Yes, few beers can carry the burden, but it still required some reservations. We brewed this beer to be the perfect match for seafood. It's a crisp, strong and sour brew that didn't fit under existing beer styles, so we invented new style - "imperial sour ale."
As you can guess from the name, it goes really well with oysters. Not sure is it worth to smuggle the oyster to the festival, but you can try.
Ravnodenstvie sherry barrel edition - 11%
BA russian imperial stout
Ravnodenstive was born as a collaboration brew with Vasileostrovskaya Brewery already in 2016. Sergey's meticulously crafted recipe and quality ingredients struck a chord with many beer lovers, so we have been brewing it ever since.
We have heard more than once that this beer would age well in barrels and we have made one run using rum barrels. This time we are playing around with sherry barrel. This is a pilot brew with a light touch of sherry barrel in it.
Jääkuninganna / Ice Queen - 16%
Ice distilled imperial sour ale
While ice distilling is mostly known from the pissing contest of the world strongest "beer", it's actually exceptional brewing trick with a long history. Eisbock, anyone? We like ice distilling a lot. It's a technique that helps to amplify many beer characters that are not otherwise obtainable.
It's only natural to try it out on sour beer. The result is sour beer on steroids. It's not super-sour, so vinegar drinkers will not find their fix here. But the rest of the sour-sweet-funky is elevated to the new height.