TCBW 2018
2018-04-30 / Written by: Tarmo / 5 min. read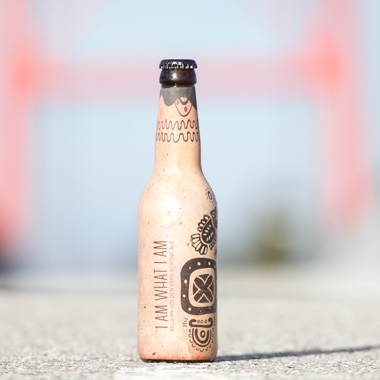 It's this time of the year again. Tallinn Craft Beer Weekend is just around the corner. Beer aficionados will take over Tallinn streets to be part of beer party extraordinaire. It means that it's time to take out our best and boldest beers and set them ready for the party. This year there will be six new beers never seen life outside the brewery before. And here they are.
Sigtuna Kuldsed Väravad / The Golden Gates of Sigtuna (w/ Pihtla) - 7.0%
Ancient Estonian stone beer w/ healing herbs
We brewed this beer in collaboration with Pihtla Õlleköök honoring traditions of Estonian farmhouse style "koduõlu". But we took it a step further. Well, lot's of steps. We brewed this beer like it was brewed 1000 years ago. Using only wooden vessels, heating mash with sizzling hot stones and flavoring beer with Estonian healing herbs instead of hops.
"The Golden Gates of Sigtuna" is a murky amber brew with the thin white head. In the aroma, there are juniper twigs, maybe some meadowsweet, but definitely juniper twigs.
The flavor, apparently beer tasted different 1000 year ago. Woody and herbal is mixed with sour notes. Some caramel sweetness from sugars scorched on hot stones. In the end, tannins from the juniper twigs will try to park your tongue if you are not careful. One thing is sure; there are not many modern beers similar to this one.
And if you ponder about peculiar bitterness in the aftertaste, it may be easier to catch if you like green fairy a lot. That's right; it's wormwood.
Pimedaim Tund Enne Koitu / The Darkest Hour Before the Dawn - 11.0%
Barrel-aged maple and tonka bean stout
OK, this is pure opulence. Imagine all the delicious things and add them to rich chocolatey stout.
It pours pitch black with thick and firm light brown head that leaves solid lacing on the walls of your glass.
Aroma is sweet vanilla and marzipan with the hint of maple syrup. In flavor intense sweetness of maple syrup, vanilla, mocha is balanced with the bitterness of dark dark chocolate and oak from rum barrels.
Hetk / Moment - 8.0%
Bourbon barrel-aged cherry ale
Cherries meet bourbon barrel.
Copper red ale with a thick beige head.
In the aroma, there is everything - bourbon barrel vanilla, red berries, treacle, honey, fresh cut on a cherry tree branch.
Flavor starts with the sharp tartness of cherry skins mixed with caramel sweetness. In the middle barrel aging add woody and tannin notes to the mix. It all ends up with long lingering oak mixed with sweet and tart cherries.
It's a sophisticated and multilayered beer that requires time and slow sipping to appreciate fully all the nuances it has to offer.
I Am What I Am - 20%
Barrel-aged naturally fermented very strong Belgian golden ale
I am what I am, and I do what I do. I expect nothing and accept everything.
Is it beer? Perhaps, it's fermented. Your mileage may vary.
Why? Pushing the yeast to the limits creates unique flavors. It's hard for us to leave this space unexplored.
Is it really strong Belgian golden ale? Probably not, but it was starting point.
Anything else I need to know? It's very potent beer. Best to enjoy like a port.
Väike Kollane Draakon / Little Yellow Dragon - 4.0%
Sour ale with turmeric and green tea
"Little Yellow Dragon" is a sour ale, inspired by Asian cuisine.
First, there is turmeric. As you pour out beer, it takes a bold position in aroma and color of the beer. And there is a good reason to be bold; turmeric boosts unique and bold flavor.
Although turmeric dominates the aroma, it leaves plenty of room in flavor for strong sourness from WildBrew Sour Pitch bacteria.
In the middle, finally, malt manages to break through and provide some malty sweetness. If you are careful, you can spot green tea cautiously peeking out behind the corner.
In the end, it's turmeric again. This time it's less intense, more peppery and mingling along with a fruity and citrusy side of lacto fermentation.
Three Pleasures: Whiskey (w/ Cool Head) - 8%
Rye doppelbock aged in rye barrels
Third and final variation of our rye doppelbock brewed in collaboration with Cool Head Brew. We aged this version in rye whiskey barrels.
Deep dark beer with beige head. Nose is dominated by soft wood and vanilla from the barrel.
This time tannic and drying barrel has found a good match in sweet and malty base beer. Colliding these two matching armies will create a multitude of flavors. Toasted rye bread, dried fruits, cafe Cubano, raisins, molasses, sour and spicy notes from rye.
In the aftertaste, malty rye and oak vanilla will mingle very long time.
Enne Üheksat / Before Nine - 10.5%
Peppermint stout
There is the exceptional schism involved on topic about dark chocolate and peppermint. It may be that you think that it's most fabulous idea since sliced bread, or possibly surpassing it. Or you may despise it. If you are one of the latter, you can skip this beer. Really. For the rest of us - this beer celebrates the marriage of peppermint and dark chocolate.
It's a deep dark beer with the light brown head. In the aroma, one can find menthol, aniseed, and herbs. Hey, it's peppermint there.
In flavor, peppermint mixes with bittersweet dark chocolate producing an array of different herbal flavors - licorice, aniseed, balm, and menthol. There is some tangy herbal bitterness in the aftertaste.
My Name Is Legion 22%
Double ice distilled double barrel-aged barley wine
- Who are you?
- My name is Legion, for I'm not one thing but many.